Ph.D. Students
Mr. Dnyaneshwar V. Bodkhe
Senior Research Fellow
M.Sc. Chemistry (Analytical)
Dr. B. A. Marathwada University, MH, India
Phone: +91 20 2590 3146
Email: dv.bodkhe@ncl.res.in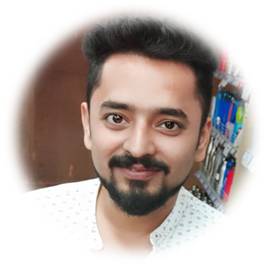 Mr. Anirban Sen
Senior Research Fellow
M.Sc. Chemistry
Jadavpur University, Kolkata, India
Phone: +91 20 2590 3146
Email: a.sen@ncl.res.in
Mr. Rohit Kumar
Senior Research Fellow
M.Sc. Chemistry
Uttar Pradesh, India
Phone: +91 20 2590 3146
Email: r.kumar@ncl.res.in
Mr. Amol C. Chandanshive
Junior Research Fellow
M.Sc. Chemistry (Organic)
Solapur University, MH, India
Phone: +91 20 2590 3146
Email: ac.chandanshive@ncl.res.in
Mr. Rajkumar S. Birajdar
INSPIRE Fellow
M.Sc. Chemistry (Organic)
Solapur University, MH, India
Phone: +91 20 2590 3146
Email: rs.birajdar@ncl.res.in
Miss. Tanuja Tewari
Junior Research Fellow
M.Sc. Chemistry (Organic)
Kumaun University, Nainital, Uttarkhand, India
Phone: +91 20 2590 3146
Email: t.tewari@ncl.res.in
Research Associate
Dr. Shailaja Jawoor
Project Associate
Ph.D. Inorganic Chemistry
M.Sc. Chemistry
Karnatak University Dharwad, India
Phone: +91 20 2590 3146
Email: s.jawoor@ncl.res.in
Project Assistants
Mr. Kishor V. Khopade
Project Assistant-II
M.Sc. Chemistry (Organic)
Modern College, S.P. Pune university, MH, India
Phone: +91 20 2590 3146
Email: kv.khopade@ncl.res.in
Mr. Uday P. Paulbudhe
Project Assistant-II
M.Sc. Chemistry (Organic)
Phone: +91 20 2590 3146
Email: u.paulbudhe@ncl.res.in
Alumni
Mr. Dattatraya S. Shinde

Technical Assistant at ONGC Navi Mumbai, India.
Dr. Ketan Patel
Senior Scientist at CSMCRI Bhavnagar, Gujrat, India.
Dr. Sandip Netalkar
Teaching Assitant at Karnatak University, Dharwad, India.
Dr. Dipa Mandal
Post Doctoral Research Associate at University of Oxford, England.
Dr. Vijay S. Koshti
Post Doctoral Research Associate at University of Rouen, France.
Dr. Swechchha Pandey
Postdoctoral Researcher at Leibniz Institute for Catalysis, Germany.
Mr. Ravidra Gote
Ph.D. Fellow at Maastricht University, The Netherlands.
Dr. Shahaji R. Gaikwad

Post-Doctoral Fellow at King Abdulla University of Science and Technology, Saudi Arabia.
Dr. Bhausaheb Rajput
Post-Doctoral Fellow at University of California San Diago, USA
Dr. Satej S. Deshmukh
Research Scientist at TCGL Kolkata

Dr. Nilesh R. Mote
Research Associate at HP Green R and D Bengaluru
Dr. Sandip B. Pawal
Executive Officer at Olon API India Pvt. Ltd.

Trainees
Kailash Arole
M.S. Student at Texas A&M M University, College Station, USA.
Yasir Khan
Research Scholar (Ph.D.) at University of Fribourg, Switzerland.
Deepak Singh
Students at National Institute of Science Education and Research, Bhubaneswar, Odisha, India
Umesh Chander
Lekshmi
Julia Joseph
Manod M.